By: Jacob S. Knabb, Associate, Commercial Communications & Services, NAR
Photos by Christopher T. Martin
Finding room for green spaces in your commercial property can seem overwhelming and cost-prohibitive. But green concepts don't always have to mean complex gray water filtration systems, solar panels, and biophilic design principles. Sometimes old school, common-sense solutions can solve 21st century problems.
Incorporating access to parks, trails, and gardens can have a big impact on occupancy for your properties and increased return on investment on developments. So where should you look for green spaces and how can you intelligently weave them into your plans?
Development Goes Hand-In-Hand with a Parklife
"Here in Chicago, the areas that have seen the most dynamic growth over the past two decades have direct access to plentiful green space," says Eddie Bluemel, Vice President at ACO Commercial. Popular areas like Lincoln Park were radically different in the '70s and '80s. Easy access to parks and Lake Michigan ignited interest in this neighborhood when people began moving from the suburbs to the city kick-starting development in the '90s.
In many ways, development and eventual gentrification follow a clear path from park space to park space. "As people get priced out of neighborhoods like Lincoln Park, it makes sense that they gravitate towards other areas with plentiful green space," says Bluemel. Organic growth follows population movement presenting development opportunities for commercial practitioners willing to scout for green spaces in urban settings like the Windy City.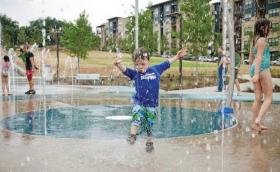 Bluemel sites Mary Bartelme Park in Chicago's West Loop as a clear driver of development. This community destination has a modern play area for children, a separate dog park, and a viewing hill delivering picturesque sightlines of the city's famous skyline. For brokers like Bluemel with an eye towards multi-unit, office, and retail investment, access to green space pays off through increased property values and tenant-pleasing walkability scores.
Beachfront Living in Downtown Atlanta
Linear parks are a dynamic type of green space growing in popularity across the country. On the most basic level, the concept centers on driving investment through walkability. The 'linear' nature of these green spaces creates contact with lots of different communities and is now being used as a model throughout the U.S. Atlanta's BeltLine is one such project.
"This might come as a bit of a surprise for some folks," says Sarah Kirsch, Executive Director of Urban Land Institute (ULI) Atlanta, "but people refer to the BeltLine as Atlanta's beachfront property." The 'rails to trails' linear park is being built from a former railway corridor around the core of Atlanta into a sprawling multi-use trail. By any measure, the BeltLine's impact on commercial real estate, particularly office, has exceeded expectations. According to Kirsch, Atlanta is now listed as the most 'trailed' region in America.
People in Atlanta have been hungry for a project like this due to the car-dependent lifestyle in the city and that hunger isn't limited to one age group. Baby Boomers and Millennials alike are now competing for properties adjacent to the BeltLine, but success wasn't always so obvious.
In 2014, ULI Atlanta formed a group called the Livable Communities Council with the focus of advancing walkability and explaining to the average Jane and Joe why walkable communities was better for them, for health, for tax spaces. "We were initially pleased when we saw people carrying their groceries on the beltline," Kirsch says. It was the first real evidence of people embracing the project.
Because the linear park mostly runs behind commercial properties designed for sidewalk access, increased pedestrian and bicycle traffic turned people's back doors into their front doors. "Restaurants started seating diners on new patio spaces," Kirsch says, "and apartment complexes began offering bicycle valets." Now the Livable Communities Council is conducting case studies in order to better inform developers in Atlanta and elsewhere about the impact of linear parks on tax bases. "Between a 20-acre retail mall and a 3-acre walkable downtown node," Kirsch says, "we're finding it's all about the walkable space."
SIDEBAR: Resources for Further Exploration:
What Does Your Garden Grow?
Community gardens are another green feature providing positive outcomes for property value. One such example is Peterson Garden Project (PGP), a Chicago-based community garden dedicated to strengthening communities, tapping into cultural heritage, improving public health, and creating sustainable outcomes.
PGP offers what it calls 'Pop-Up Victory Gardens,' which are designed to last up to 2 years and provide excellent uses for vacant land while development plans are forming. Even over a short-term period, partnerships between community gardens, developers, and property owners create goodwill. "Having a lot of people who care about the neighborhood is good for business," says LaManda Joy, Founder and President of the PGP. Joy is quick to point out the symbiotic nature of the relationship, noting PGP would never exist without partnerships due to the cost of land on the north side of Chicago.
Evidence also indicates the 18-34 demographic responds positively to businesses who care about the environment and quality of life. "Community gardens provide a place for cohesion and community you can't really get anywhere else," Joy says. "That's a benefit for everyone."
SIDEBAR: Community-Building Tips:
Learn how the Chicago Association of REALTORS® worked with the Peterson Garden Project(link is external).
Into the Woods for an Urban Experience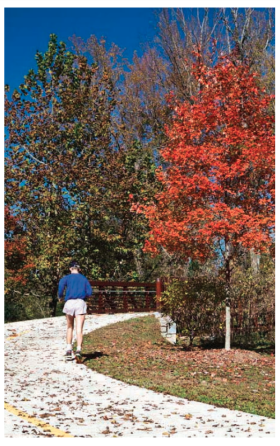 Bob Turner, ALC, Broker Owner of Southern Properties, also makes an aquatic comparison to explain the site selection for The Parkside at Shelby Farms development in Memphis. "My partner Doug Windham and I knew Shelby Park was like an ocean which made Parkside ocean front property." However, despite the adjacent park, Turner and Windham believed linear parks would enhance walkability throughout the property.
They are banking on this concept making a big difference in the 60-acre property's long-term value. With 1,500 apartments, a 130-room hotel, and 50,000 square feet of service retail and restaurants, it was vital to create a feeling of openness inside the high-density development. Ensuring plentiful access to walkable trails and cycle paths allows for more organic engagement.
Turner cautions commercial practitioners looking to develop similar projects to be mindful of misconceptions about the term 'mixed-use.' "The description is over-applied," Turner says. "True mixed-use developments contain a mix of property types people need to live, work, and play in one place."
In the end, Parkside is a substantial investment in making the extra effort to weave in 'green spaces' and walkable community concepts. "Doug and I are breaking it up into places to eat, socialize or just watch the world go by," Turner says. "You need all these things to make a true mixed-use concept work." This style of thinking was a hard-sell at first, with many trusted advisors cautioning to work big box retail into the concept. But, as Turner puts it, "people don't want big grocery stores gobbling up their neighborhood. They can drive to that if they want."